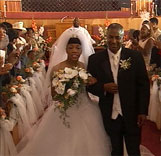 Creating a customized video that you will cherish for a lifetime. M. E. Lampkin brings over twenty years of video and television production, professional editing, and graphic design to every project.
At M. E. Lampkin Media Services, we know that your special moments can never be relived, but they can be preserved and remembered year after year through Professional Video Production.
Your event on film, for a lifetime!
M.E. Lampkin Wedding Promo from Mark Lampkin on Vimeo.
To get detailed information on the video package that is right for you, call (510) 815-1565 today and make an appointment to get more information on how M. E. Lampkin Media Services can create a wedding video that's just right for you!